High Flyer
Jump to navigation
Jump to search
High Flyer
Episode #
207
Air Date
November 4, 1978
Briefing
Stolen car parts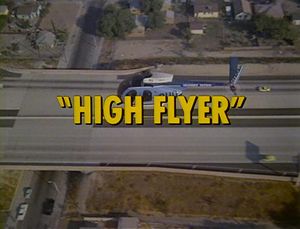 Brief Plot
Plot
A woman leaves her car to go to the call box and three guys steal her engine. Our heroes chase their blue van. They lose it in a nearby neighborhood. Later, Ponch takes Jon's neighbor shopping while Jon repairs Ponch's car with the help of a girl who has a crush on him.
The next day, Ponch pretends to have a cold so he doesn't have to go up in the helicopter. Grossman goes up instead. Soon, Ponch and Jon respond to a call about car strippers. The strippers, now in a tan van, drive down an alley and throw tires at Ponch and Jon. Ponch hits one and falls over in garbage.
That night, Jon's neighbor has a fight with her daughter, Kim. Kim visits Jon at 1am.
The next day, Ponch fakes an earache but finds out that the flight was canceled anyway because of weather. Remember that van? It's now blue and white and still stripping cars in broad daylight. Ponch and Jon chase it until it rolls over and catches fire. So much for the new paint job. Back at Jon's apartment, Kim is waiting for him. Jon and Ponch go talk to Kim's mom.
Later, Ponch and Jon pull over a van with 20 L.A. Rams cheerleaders in it. Jon makes 8 wait for a cruiser. While Jon directs traffic, Ponch hangs out with the cheerleaders. While Ponch is at Central, asking Sindy out on a date, Jon greeted at his apartment by Kim. Sindy and Ponch show up at Jon's shortly and Sindy pretends to be Jon's girlfriend. Jon is shocked and Kim gets depressed. After talking to Kim, everything turns out fine.
The next day, Ponch has no ailments and goes up in the helicopter. Ponch reveals he's terrified of crashing. Ponch and Bob in Helicopter 5 notice a brown van (didn't it burn?) near a Mercedes. Jon goes after the van on the ground. He arrests the bald buy after he tries to run. Meanwhile, Ponch and Bob chase the Mercedes. The guy runs away and Ponch gets out and nabs him. Back at Central, Ponch and Bob are headed out to the airport for Ponch's flying lesson. As Ponch leaves, he notices that there are four L.A. Rams cheerleaders there.
Great Quote
Guest Stars
Also Starring
Co-Starring
Featuring
Crew
Fun Facts
Mistakes
Buy this episode