Family Crisis
Jump to navigation
Jump to search
Family Crisis
Episode #
203
Air Date
September 30, 1978
Briefing
Auto theft is overworked & movie prop car is stolen / Movie car performing robberies / Go catch the movie car thieves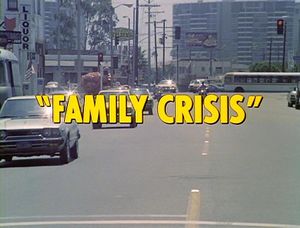 Brief Plot
Jon has to arrest his nephew after learning he and his friends were involved in stealing several cars.
Plot
While directing traffic on their way in to work in the morning, Jon sees his nephew, Wes Miller, riding with some friends. Ponch notices that the ignition has been busted open as they drive off. Wes's friends laugh about riding by the cops in a stolen car.
After leaving the traffic jam, Ponch is asking Jon about Wes when they see someone stealing a motorcycle. They pursue him. Sindy Cahill hears the call while riding her motorcycle off duty and joins in the pursuit. She is arrested by an LAPD officer who thinks she's an accomplice. After catching the motorcycle thief, Ponch and Jon identify her as a CHP officer.
At the briefing, Getraer tells everyone that a prop car, dubbed "The Movie Car," with special abilities from the movie Hugger Mugger was stolen. Sindy has several questions and feels it may be part of a bigger caper.
After the briefing, Ponch sells his motor home for $2,625. They then head over to have lunch with Fritz and Grossie. Jon tries calling his sister, Wes's mother, but finds out that she's out of town on a buying trip. Jon questions why Wes did not tell him that she was out of town.
At the Mayfair Market, Jon's nephew and his friends steal another car.
Elsewhere, the stolen movie car is used as an escape car during a robbery. Its special effects gun scares off a man chasing the robber and it speeds off.
Back at Central, Ponch is figuring out his new monthly budget and plans for $900 down on a new car with payments of $160 per month. Sindy arrives with news about her investigation into the movie car theft. Getraer tells her that she should stick to patrol until he's asked to put someone on the case.
Later that day, Jon drives his truck to Ponch's new apartment near the marina. As he arrives, Jon learns that the waterbed in the apartment upstairs flooded Ponch's new place. When he moves into the temporary apartment and sees the woman upstairs, he decides to move in there even though it's $500 per month, twice as expensive as where he was moving into.
That night, Ponch, Jon, and Wes go to dinner with some other CHP officers. Wes's friends show up and make him uncomfortable for hanging out with cops.
At the next day's briefing, Getraer updates everyone on the stolen movie car committing a robbery. Ponch suggests that Sindy talk to the guy they hit.
The next day, Wes and friends abandon a stolen car on the freeway. Ponch and Jon find the abandoned car and Ponch finds a bus pass with Wes's name on it. As he picks up the pass, they get a call about the movie car and head towards it. Sindy gives up her chase after skidding on the oil and the car gets away.
While Sindy gets a physical checkup that Getraer ordered, Ponch brings Wes's bus pass to him and tells him he knows he's involved in the car thefts but that Jon does not. He promises not to tell Jon provided Wes stops riding in stolen cars. Ponch tells Wes he borrowed Jon's truck and needs his help to move some stuff into his new apartment.
Later, Sindy gets called in by the Captain about her report on the movie car thieves. Ponch and Jon head out to Harlan's garage and talk about Wes. Dave growls at Ponch and Harlan tells him it's because he's drinking from Dave's cup.
Meanwhile, Wes is out on an unopened section of the 210 Freeway racing cars when Grossie spots them. Ponch and Jon join in as the cars leave the freeway. As the cars split off from each other, Grossie chases one while Ponch and Jon take the other. When they finally catch them, Jon arrests Wes.
At Central, Wes gets off with a misdemeanor and Getraer updates everyone on the movie car situation.
Out on the streets, Ponch spots a familiar trash rig and they decide to stake it out. The movie car pulls off another robbery and the CHP was ready. After a chasing the car while it uses smoke screen and other movie devices, they trap it on a pier and the thieves eject and land in the water.
At Ponch's house-warming party, we find out that Sindy received a commendation. As Getraer arrives, Harlan's dog, Dave, starts growling at him.
Great Quote
"When it comes right down to it, am I an uncle or am I a cop?"
-Jon
Guest Stars
Also Starring
Co-Starring
Crew
Fun Facts
Mistakes
Buy this episode