Erik Estrada
Jump to navigation
Jump to search
Erik Estrada is best known for playing Officer Frank "Ponch" Poncherello on the hit television series, "CHiPs".
Biography
Erik Estrada was born on March 16, 1949 as Henry Enrique Estrada in New York City. Back around 1968, he was in a dance troupe and earned $38 a week with free lunches and all the acting lessons he could take.
Erik arrived in California in 1971. He had a 10-day hospital stay in August 1979 caused by on-set accident when he was thrown from his motorcycle and the 900-pound bike landed on him. At 5'10", 160 pounds, he was an inch shorter and 15 pounds lighter than Wilcox. But his physical fitness routine helped him rebound from his injury: 240 situps and 120 push ups on a daily basis.
Erik was voted as one of "The 10 Sexiest Bachelors in the World" in People Magazine on November 19, 1979. The cover features Erik towering above the other men (Willie Ames included) at the top of the page, cutting into the People sign, with nothing but a big smile and a towel lying across his shoulder. The magazine says,
For all his raw physical appearance, Estrada regards himself as "gentle, kind and considerate." He buys his dates jewelry and treats them to champagne and sushi evenings. But Estrada has grown cunning. "In the past, women I've dated always decided to be actresses. I was just a means to an end for them." So what does he really look for in a woman? The actor flashes a huge smile. "T&A"
Erik lives out in the San Fernando Valley. He's up in the hills behind the Burbank airport and south of Universal Studios. His house is way at the top of this hill and it's easy to spot. He did an interview on the Mexican Channel from some show called CONTROL and it shows you where Erik lives and the inside of his house.
He has two "CHiPs" motorcycles (sans the engines) sitting in the middle of the house and old magazines with his picture on the cover (TV Guide, People) plastered all over the walls. He has really unusual wall paper (stripes & polka dots) and a bunch of trinkets sitting around. He has all sorts of little gumball machines and slot machines sprinkled throughout his residence. The house wasn't too big, seemed like your average 4-5 bedroom track home actually. Erik has two sons, Anthony and Brandon and is married to Nanette Mirkovich, his third wife.
On April, 19th 2007, he had received a star on the Hollywood Walk of Fame for his work in television.
Starring Roles
Tuesday Never Comes (?)
The Repentant (?)
Silver Circle (?)
Vengeance of Little Saigon (?)
Will You Run With Me? (?)
The Ballad of Billie Blue (1971)
Parades (1972)
Jailbreakin' (1972)
The Cross and the Switchblade (1972) [as Nicky]
The New Centurions (1972)
Airport 1975 (1974) [as Julio]
Midway (1976) (aka The Battle of Midway)
Trackdown (1976) [as Chucho]
"CHiPs" (TV-1977-83) [Officer Frank "Ponch" Poncherello]
Fire! (TV-1977) [Frank]
The Lost Idol (1980)
Shock Troop (1980)
The Bronx, Fort Apache (1981)
The Line (1980)
Honeyboy (TV-1982)
Where is Parsifal? (1983)
Lightblast (1985)
Colpi di luce (1985)
Pentito, Il (1986)
Hour of the Assassin (1987)
Andy and the Airwave Rangers (1989)
The Dirty Dozen: The Fatal Mission (TV-1988) [as Carmine D'Agostino]
Caged Fury (1989) [Victor]
Alien Seed (1989)
She Knows Too Much (TV-1989) [as Jimmy Alvarez]
Twisted Justice (1990) [as Commander Gage]
Spirits [or Spanish] (1990)
A Show of Force (1990) [as Machado]
Night of the Wilding (1990) [as Joseph]
Guns (1990)
The Last Riders (1991) [as Johnny]
Extralarge: Cannonball (TV-1991) [as Gonzales]
Do or Die (1991) aka Girls, Games and Guns [as Richard Estaban]
The Divine Enforcer (1991)
Earth Angel (TV-1991) [Duke]
The Sounds of Silence (1992)
The Naked Truth (1992)
Angel Eyes (1993) [as Johnny]
Dos Mujeres, Un Camino (Two Women, One Road) (Mexican Univision Network 1993-94)
National Lampoon's Loaded Weapon 1 (1993) [as "Erik" with Larry Wilcox]
Gang Justice (1994)
The Final Goal (1994)
American Adventurer (TV-1996) [Host]
Fight Zone (Pay-Per-View 7/5/1996) [Host]
Visions (1996) [Detective Francisco Moreno]
Panic in the Skies! (1996) [Ethan Walker]
Tom Sawyer (1998) [Joe]
"CHiPs" '99 (TV-10/27/1998) [Frank Poncherello]
Guest Appearances
Owen Marshall, Counseler At Law (TV-1973) "Once A Lion"
Hawaii-Five-0 (TV-2/27/1973) "Engaged to Be Buried"
Emergency! (TV-12/7/1974) "Details"
Kolchak, The Night Stalker (TV-2/14/1975) "Legacy of Terror" [Pepe]
Medical Center (TV-1975) "The High Cost of Winning"
Police Woman (TV-1975) "Don't Feed the Pigeons"
The Love Boat (TV-1978) "Going By the Book"
The Six Million Dollar Man (TV-19??) "The Deadly Test"
The Mike Douglas Show (TV-1980)
Women Who Rate A 10 (TV-1981)
Hunter "City of Passion: Part 1" (TV-11/7/1987) [Sgt. Bradley Navarro]
Hunter "City of Passion: Part 2" (TV-11/14/1987) [Sgt. Bradley Navarro]
Hunter "City of Passion: Part 3" (TV-11/21/1987) [Sgt. Bradley Navarro]
L.A. Law
Alfred Hitchcock Presents (TV-1988)
A Taco Bell commercial (TV-19??) ["Excuse me ma'am...do you have a license for that taco?"]
The Cosby Mysteries (TV-10/5/1994) "Self Defense" [Officer Antonio Ruiz]
Cybil (CBS-1995) [actor]
The Nanny (NBC-1/2/95) "Kindervelt Days" [as himself]
Burke's Law (TV-4/14/1995) "Who Killed the Motor Car Maverick?" [Crash Kramer]
Music City Tonight (TV-1995) [as himself]
Psychic Revival Network (TV-199?)
Mysteries Magic and Miracles (Sci-Fi-1996)
High Society (CBS-1996) "Alice Doesn't Pump Here Anymore" [as Pedro the Doorman]
Charles Grodin (CNBC-1997) [guest]
Geraldo (TV-1997) [guest]
Baywatch (TV-1/1997) "Search and Rescue" [Captain Huntington]
Martin (TV-1/23/1997) "You Play Too Much" [Chip]
Pauly (TV-4/7/1997) "Through the Ringers" [himself]
Late Night with Conan O'Brien (NBC-5/1/97) [guest]
Homeboys in Outer Space (TV-5/6/1997) "How the West Was Lost or, Daddy's Home" [Mr. Dork]
Good Morning America (ABC-5/7/97) [guest]
The Carol & Marilyn Show (TV-5/7/97) [guest]
Politically Incorrect (ABC-5/12/97) [guest]
The Daily Show (TV-1997) [guest]
Viva Variety (TV-5/13/97) [as his mother]
Talk Soup (E!-5/23/97) [guest]
The Rosie O'Donnell Show (TV-5/27(28?)/97) [guest]
Diagnosis Murder (TV-10/30/1997) "Must Kill TV" [himself]
Sabrina, the Teenage Witch (TV-9/26/1997) "Sabrina Gets Her License (1/2)" [himself]
Space Ghost: Coast to Coast (TV-10/31/1997) "Untitled" [himself]
Published Works
Chat Transcripts
Contact Information
You can contact Erik at the address he supplied in the AOL chat:
Erik Estrada
11288 Ventura Blvd.
Studio City, CA 91604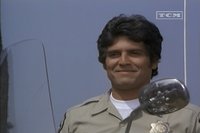 External Links