E.M.T.: Difference between revisions
Jump to navigation
Jump to search
 

Line 83:
Line 83:

* The stock car that crashes near the end has the same paint scheme as Candi's race car in [[Drive, Lady, Drive]], although it's #37 instead of #43. There's also a #37 stock car with the same paint scheme in the background of the scene where Jon photographs the engine during the pre-titles sequence of [[Destruction Derby]].

* The stock car that crashes near the end has the same paint scheme as Candi's race car in [[Drive, Lady, Drive]], although it's #37 instead of #43. There's also a #37 stock car with the same paint scheme in the background of the scene where Jon photographs the engine during the pre-titles sequence of [[Destruction Derby]].

* The kids' den was under Roadside Drive, Agoura Hills, next to the Ventura Freeway. [http://maps.google.com/maps?ll=34.145186,-118.757345&spn=0.000338,0.001032&t=h&z=21&layer=c&cbll=34.145186,-118.757345&panoid=Y7CFg7YwkqFU7D13DLoBfA&cbp=12,280.53,,0,-3.68 View in Google Maps] The crash involving the heart attack victim was filmed a couple of hundred yards away on Kanan Road, between Roadside Drive and Agoura Road.

* The kids' den was under Roadside Drive, Agoura Hills, next to the Ventura Freeway. [http://maps.google.com/maps?ll=34.145186,-118.757345&spn=0.000338,0.001032&t=h&z=21&layer=c&cbll=34.145186,-118.757345&panoid=Y7CFg7YwkqFU7D13DLoBfA&cbp=12,280.53,,0,-3.68 View in Google Maps] The crash involving the heart attack victim was filmed a couple of hundred yards away on Kanan Road, between Roadside Drive and Agoura Road.

* The Paramedic van used in this episode and in many others is the same used in the hit TV series EMERGENCY! in fact the van is unit 51 of the LA county FD.

* The van used in this episode and in many others is the same used in the hit TV series EMERGENCY!in fact the van is unit 51 of the LA county FD.






==Mistakes==

==Mistakes==
---
Latest revision as of 19:35, 9 November 2014
E.M.T.
Episode #
317
Air Date
January 19, 1980
Briefing
none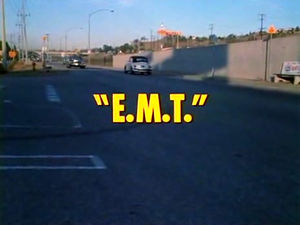 Brief Plot
A swerving driver pulled over by Jon and Ponch turns out to be a fireman. Back at Central they volunteer for an E.M.T. course without reading the small print. The course is run by the fireman they pulled over, and he gives them a hard time. Later, Jon and Ponch save a car crash victim with a hang glider, and rescue a pair of kids from their cave-like den under the freeway.
Plot
While Ponch and Jon admire a couple hang-gliders, two kids cause a car to swerve. Ponch and Jon chase after the car as the theme begins. They catch the guy, who turns out to be a fireman, and give him a ticket for crossing the double line.
After Ponch and Jon volunteer for EMT training at UCLA, they get assigned to the A-shift (6am!). The next day, they show up to class 10 minutes late. Their teacher is the same fireman they stopped the day before.
The next day, Ponch and Jon share a hang-glider. They spot a car that caught on fire and fell down a cliff. They land on a ledge and aid the victim. They can't figure out how to get him up, so they get the victim on the hang-glider and fly him to the beach below. In the next EMT class, Ponch and Jon have to pull a "victim" up a hill three times.
The next day, Ponch and Jon visit the fireman's house. While his family is happy to meet Ponch and Jon, the fireman is obviously upset with them. Feeling uncomfortable, Ponch and Jon make a break for the door. Days later, Ponch and Jon encounter an accident caused by an old guy who had a heart attack. Ponch and Jon use their EMT training to save him. The next day, Ponch and Jon encounter a stock car that fell off the side of the road. The driver is "banged up" and the car trapped some kids in a cave. Ponch gets one of the kids out while the fireman goes in for the other.
When a big truck crosses the road above, the "club house" in the cave falls in on the fireman and second kid. Somehow, he ends up getting out because after the commercial, we see him in a wheelchair being pushed his son. He only has broken legs. ...oh, and the kid made it out of the cave ok too.
Guest Stars
Co-starring
Featuring
Crew
Fun Facts
Mistakes