Drive, Lady, Drive: Part II
Jump to navigation
Jump to search
Drive, Lady, Drive: Part II
Episode #
310
Air Date
November 10, 1979
Briefing
?
Brief Plot
Donna/Linda is taken back to her foster home, but Candi suspects something is wrong. Jon and Ponch catch the dune buggy and Jon discovers the hijackers' hideout.
Plot
After some scenes from Part 1, we come in where we left off. Candi stops the car just in time and the girl runs off. They find her at her old, burned out house.
The next morning, Candi visits the girl, Donna, at her foster home. She doesn't seem happy and gets punished after Candi leaves. Meanwhile, Ponch and Jon chase after the speeding dune buggy again. Ponch recognizes the route from Part 1 and takes a short cut while Jon follows. They see them hide the dune buggy and then arrest them.
At the track, Candi is qualifying. She makes it, but decides to try for a better starting position and blows her engine. Back at the Palma Vista police station, Jon has to deal with the fathers of the kids he arrested. Later, Candi goes with the social worker to get Donna out of the horrible home. Meanwhile, Jon is about to give a ticket when he notices the car from the first scene of Part 1. He follows it and returns to the station. The officers from Central try to convince the officers on strike to help but they refuse.
That night, Candi calls her pit crew to tell them that her parents want to take care of Donna. When she gets to the track the next day, she learns that she's been replaced by someone else. The next day, while Jon's organizing a raid on the crooks with the crappy car, Candi is getting ready to race...her replacement joined another team.
During the race, Candi and her ex-replacement save another racer before his crashed car explodes. Meanwhile, Ponch, Jon, and a group of other officers bust the crooks they've been watching.
Back at the raceway, Ponch and Jon arrive. Candi is in third, but quickly moves to second which is the position she finishes in. After she returns to her hotel, she says goodbye to Donna. After Donna leaves, so does Candi and Ponch is left with just Jon. Jon says they need a vacation...they decide to try Los Angeles.
Guest Stars
Also Starring
Co-Starring
Featuring
Crew
Fun Facts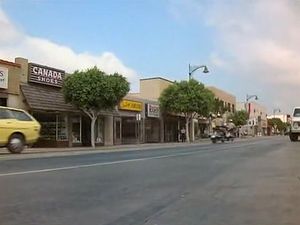 Mistakes