Country Action
Jump to navigation
Jump to search
Country Action
Episode #
614
Air Date
January 23, 1983
Briefing
?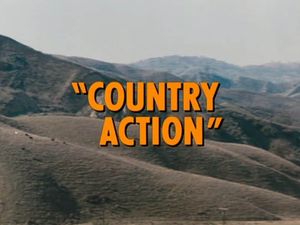 Brief Plot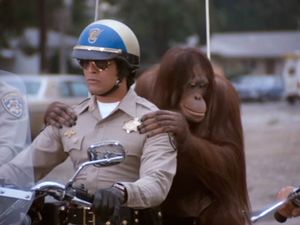 After a pile-up where a stolen bull escapes, Ponch gets to take care of the driver's orangutan who can identify the cattle rustlers.
Plot
Ponch and Bobby respond to an accident and keep a bull occupied until animal control arrives. They find an orangutan that feels bad for its owner (who was knocked unconsious). When they visit the owner in the hospital to get information on the accident, he isn't helpful. It turns out that the cattle are stolen. The owner can't identify the men he was working for, but the orangutan can. Ponch takes her out for a ride on his motor.
That night, Ponch and Bobby go undercover at "The Palimino" with the orangutan. During the third country song, Ponch and Bobby end up in the middle of a bar fight. The music continues. The next day when Getraer finds out about it, he's upset with Ponch and Bobby. While they go to visit the victim of stolen cattle, they leave the orangutan with Harlan to clean cars. Ponch and Bobby find out that the cattle have anthrax. Later, Ponch and the monkey are out on patrol. (But THIS monkey isn't Bobby!)
That night, Ponch and Bobby return to the country bar "looking to sell some land". They meet a gentleman who tells them where to find the cattle rustlers that have the cattle with anthrax. When Ponch and Bobby show up, they chase the rustlers and arrest them after their truck rolls over. Back at Central, the orangutan shows up to say goodbye. Laughter ensues.
Guest Stars
Special Guest Appearance
Co-Stars
Featuring
Crew
Fun Facts
One of Bobby Berosini's orangutans named Clyde appeared with Clint Eastwood in Every Which Way But Loose.
The Palomino Club (previously seen in Finders Keepers) is another link to Every Which Way But Loose. In the movie, Clint takes his orangutan, Clyde, to the Palomino. The scene even ends with the police getting involved in a punch-up while the band play on.
Charly McClain and Mickey Gilley had a #1 hit in 1983 with the duet Paradise Tonight.
Mistakes
When Ponch and Bobby are circling the escaped bull, just as Bobby says "that's not what I wanted to hear you say", the bull is visible in the trailer behind him.
When the animal protection guys go to open their truck, one says "OK, let's dump this chimp" - in their profession they should know the difference between a chimp and an orangutan.