A Simple Operation
Jump to navigation
Jump to search
A Simple Operation
Episode #
421
Air Date
May 17, 1981
Briefing
Only visit Getraer during breaks.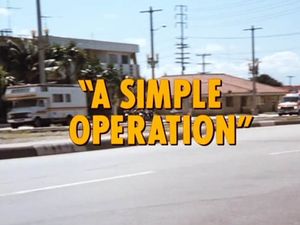 Brief Plot
During a pursuit, Getraer is involved in an accident that damages his eye. While in hospital, the patient next to him is murdered to stop him from testifying, and the killer thinks Getraer may have seen him.
Plot
Guest Stars
Co-Starring
Featuring
Crew
Fun Facts
Eileen Saki (Nurse Mishima) appeared in several episodes of M*A*S*H, but not as a nurse - she was Rosie, the owner of the bar in the nearby village.
The Bar-B-Q restaurant where Jon and Ponch rescue the rabbit in the pre-titles sequence is now a KFC, The First Federal Savings has become a OneWest Bank, but the McDonald's has only been slightly remodeled since filming. View in Google Maps
Valley General Hospital is actually the back of the Thalberg Building in Culver City. It was built as the administration building for MGM studios and is now part of Sony Pictures Studios. View in Google Maps
Mistakes
Damage to the macula causes problems with central vision, but does not lead to total loss of sight.