"CHiPs": The Complete Second Season
Jump to navigation
Jump to search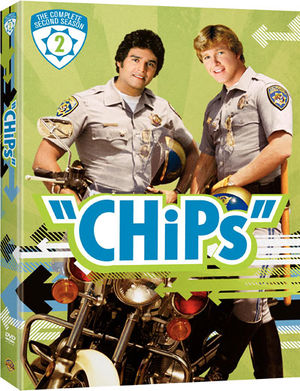 "CHiPs": The Complete Second Season is a DVD box set of the second season of "CHiPs". It was announced on February 20, 2008 and became available on June 3, 2008. The DVDs are official products from Warner Bros.. The four double-sided DVDs will include all 22 episodes of season two and a The Real CHiPs with Erik Estrada featurette.
Studio description
Can't drive 55? There's a ticket with your name on it - sign here, please. Just jumped three freeway lanes and endangered everyone in your path? Pull it over, pal, and dig out that license and registration. California Highway Patrol motorcycle officers Jon Baker and Francis "Ponch" Poncherello are on patrol. Erik Estrada and Larry Wilcox return as Ponch and Jon, and the action and fun are ready to roll in 22 road-ripping episodes. Also returning: Robert Pine as amiable Sgt. Getraer. Strap on helmets and goggles for a deadly chain-reaction crash, the appearance of a nettlesome TV-news crew, Ponch's disco dancing, Halloween patrol and a caped biker daredevil. Remember: safety first. And always signal before turning.
Special features
Subtitles: English, French, Spanish, and Portuguese (episodes only).
Technical details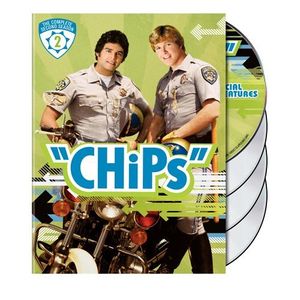 Screen Aspect:

Original Aspect Ratio - 1.33
Standard [4:3 Transfer]

Sound Quality:

Mono - English
Mono - Spanish
Mono - Portuguese

Subtitles: Subtitles
Media Quantity: 4
Media Sub Format: Multi Disc
See also
External links