"CHiPs": The Complete First Season: Difference between revisions
Jump to navigation
Jump to search
Line 39:
Line 39:

==External links==

==External links==

* [http://www.amazon.com/gp/product/B00005JO3Z?ie=UTF8&tag=chipsonline-20&linkCode=as2&camp=1789&creative=9325&creativeASIN=B00005JO3Z "CHiPs": The Complete First Season on Amazon.com]

* [http://www.amazon.com/gp/product/B00005JO3Z?ie=UTF8&tag=chipsonline-20&linkCode=as2&camp=1789&creative=9325&creativeASIN=B00005JO3Z "CHiPs": The Complete First Season on Amazon.com]






{{Succession box|

{{Succession box|
---
Revision as of 17:05, 20 October 2014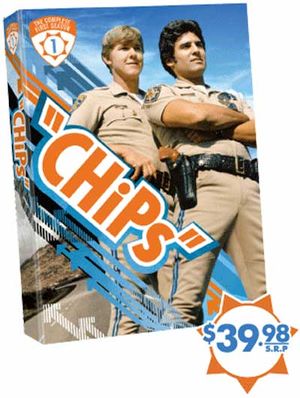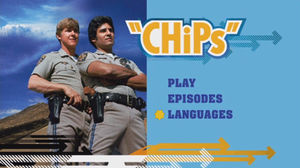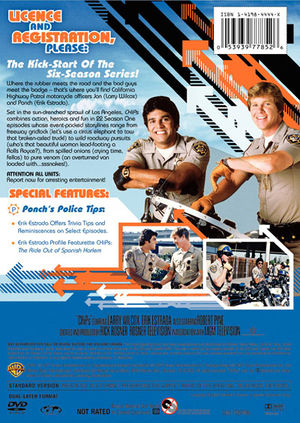 "CHiPs": The Complete First Season is a DVD box set of the first season of "CHiPs". It was announced in February 2007 and available by June 5, 2007. The DVDs are official products from Warner Bros.. The DVDs include all 22 episodes of season one with introductions by Erik Estrada on select episodes and a CHiPs: The Ride Out of Spanish Harlem featurette.
Box description
Where rubber meets the road and the bad guys meet the badge - that's where you'll find California Highway Patrol motorcycle officers Jon (Larry Wilcox) and Ponch (Erik Estrada).
Set in the sun-drenched sprawl of Los Angeles, CHiPs combines action, heroics and fun in 22 Season One episodes whose event-packed storylines range from freeway gridlock (let's use a circus elephant to tow that broken-axled truck!) to wild roadway pursuits (who's that beautiful woman lead-footing a Rolls Royce?), from spilled onions (crying time, fellas) to pure venom (an overturned van loaded with...sssnakes!).
Attention All Units:
Report now for arresting entertainment!
Special features
Ponch's Police Tips:

Erik Estrada offers trivia tips and reminiscences on select episodes.
Erik Estrada profile featurette CHiPs: The Ride Out of Spanish Harlem
Subtitles: Portuguese & Español (Episodes Only).
Technical details
Screen Aspect:

Original Aspect Ratio - 1.33
Standard [4:3 Transfer]

Sound Quality:
Subtitles: Subtitles
Media Quantity: 6
Media Sub Format: Multi Disc
Packaging Type: Amaray Case
Other seasons
Other seasons will follow, but a complete release schedule has not been announced.
See also
External links