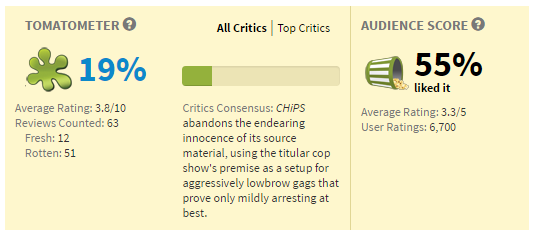 We're not going to keep posting daily updates on the CHIPS movie, but figured we'd do one last update to share that the movie's Rotten Tomatoes score has dropped under 20%.  It's currently sitting at 19% with 63 critic reviews.
In more positive news, apparently 55% of 6,700 audience members liked it. Which, when you think about it, is only 55% of the people who saw the trailers and knew what to expect have gone and rated the movie positively.
Meanwhile, we're still living in disbelief that "Hanna-Barbera Cinematic Universe" (which we first learned about yesterday) is actually a thing.