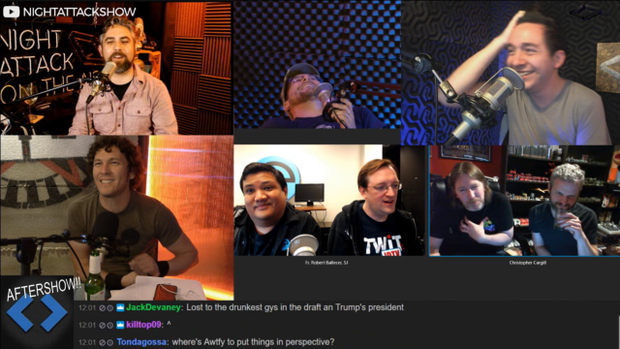 Night Attack is a weekly comedy podcast on DiamondClub.tv hosted by Brian Brushwood (Scam School, Modern Rogue, Hacking the System) and Justin Robert Young (BitTorrent News, Weird Things). Every year, the show conducts a "Summer Movie Draft" in which the hosts invite five other teams to join them in bidding on summer movies, spending up to an imaginary $100.  Whichever team ends up with the largest total domestic box office is declared the winner.
This summer's teams consisted of Night Attack's Brian and Justin, Tom Merritt and Jennie Josephson from Daily Tech News Show, Kristi Kates and Mulango AE from Cordkillers, Fr. Robert Ballecer from TWiT.tv and Patrick Delahanty from "CHiPs" Online as team "Big & Tall", Scott Johnson and Brian Ibbott from The Frogpants Network, and C. Robert Cargill (writer of Doctor Strange) and Jason Murphy (host of Modern Rogue and Hacking the System) as team "ScotchBros.".
From the pre-determined list of 30 movies, movies up for bid were presented in a random order.  CHIPS came up ninth and went for $10 as the first film won by ScotchBros. and going for $6 over the previous high bid.
Cargill defended his bid saying, "We were bidding on Michael Peña. Michael Peña, everyone loved him after Ant Man and people want to see him be funny."  His teammate, Jason Murphy, added, "I'm just telling you, ass-eating jokes are where it's at in 2017!"
As the draft continued, the overpriced bid for CHIPS became a running gag with Cargill and Murphy hyping it up by shouting, "CHIPS, bitch!"
Near the end of the episode, Cargill was amazed that the "CHiPs" Online site had been updated recently.  (This article will probably amuse him to no end.)
The winner of the draft will be determined on Labor Day. Updated standings can be found at http://draft.diamondclub.tv/.
You can watch the episode on YouTube or Night Attack's Patreon page.  (Note: There is some adult language and this show may not be appropriate for younger viewers.)