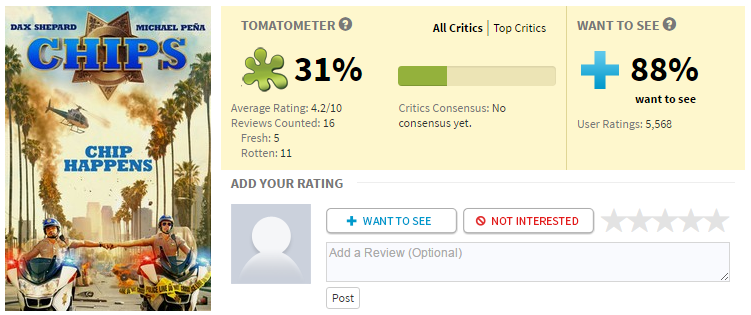 A rating appeared for CHIPS on Rotten Tomatoes for the first time today. It is currently rated at 31% on the Tomatometer. This rating is based on an average rating of 4.2/10 from 16 movie critic reviews. Of those 16 reviews, only 5 were "fresh" while 11 were "rotten".
Mick LaSalle of the San Francisco Chronicle writes, "As light entertainment goes, "CHiPs" is fairly accomplished, and Pena and Shepard make a good team."
"How bad could "CHiPs" be?" asks Brian Orndorf of Blu-ray.com. "There are more references to analingus than there are motorcycle chases."
Donald Clarke of Irish Times writes, "What better way to celebrate such a quaint series than with a squalid, incoherent catastrophe that makes one yearn for such relatively harmless entertainments as The A Team film?"
Devan Coggan of Entertainment Weekly says, "While CHIPS sure is goofy, it falls flat compared to other buddy-cop comedies in its genre, relying too heavily on unpleasant sex jokes (often revolving around gay panic) and a nonsensical crime plot."
The Entertainment Weekly review must be especially awkward considering that Dax Shepard is doing a Facebook Q&A with Entertainment Weekly today at 2:15pm PDT (5:15pm EDT).