Frank Poncherello
From CHiPs Wiki
Francis Llewellyn Poncherello
Actor
Erik Estrada
Appears in
Seasons 1 through 6 (1977 - 1983)
Call Numbers
7 Mary 4 / 7 Mary 6 in Season 6 / 79 Mary 4 in 1999
Badge Number
B600
Francis Llewellyn Poncherello[1][2][3] (aka "Ponch") is a graduate of Lehigh Polytechnical High School where he set the school's all time record for visits to the principal's office.[1] His mother is named Maria, and he has brothers named Robert and Martin in Chicago.[3] His sister, Patti, lives in New York.[4] Robert and Martin both work for his father in Chicago.[3] He also has an uncle Henry.[2]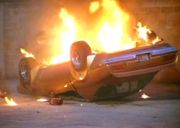 Shortly before joining the CHP, Ponch worked in a garage as a mechanic. The first time Ponch had met Officer Jon Baker while deciding to ride his dirt bike without a motorcycle helmet, and jumping over a CHP patrol car. After a little police pursuit he had finally wiped out, and getting caught by Jon who now decides to give him the full speech about not wearing a motorcycle helmet. Ponch had met Jon once again for the second time while deciding to cruise around in a 1964 Chevrolet Impala with the members of the gang called Clono Condoris, and deciding to drink alcohol and litter on street eventually get pull car by a patrol. Ponch now finally gets out of the car, and decides to lie about Jon being his cousin. While Ponch was dirt biking out in field one day with his new best friend Jon, while putting the bikes back up on the truck, and finally handed an application by his friend that had convinced him to join the CHP.[5]
He was commissioned in the late summer of 1975 as an officer of the law.[6][7] [5] He started out in a patrol car before completing motor school and becoming a motorcycle officer.[5] A year and a half into his law enforcement career, he was put on probation and, as a result, assigned as a partner to Jon Baker. When he accidentally directed the relative of the captain into a ditch just as his probation was about to end, he was given another six months of probation.[6] Not long after the second probationary period ended, he was temporarily assigned to partner with a rookie officer, Brent Delaney, for a couple weeks.[5]
In late 1982, he finally recieves a new partner by the name of Bobby Nelson[8], and until Bobby's younger brother Bruce Nelson becomes his partner later on in early 1983.[9]
For two years, Ponch lived in a motor home in a trailer park.[10] He used to drive his motor home around as personal transportation.[11][2][12] He once had to move in with Jon temporarily while his motor home generator was being fixed at Mike Auto Repair.[13] He eventually sold it back to the dealer for $2,625, and after his first apartment for $250 a month was flooded by a water bed from the floor above. He agree finally into move to another apartment temporarily for $500 month rent near the marina, and ended taking it permenantly after meeting his beautiful sexy blonde new neighbor from the floor above. He had originally planned on buying new furniture, a combination hi5 stereo which includes a cassette, 8 track, record player, and a brand new car with the money. He had finally had a home warming party where Dave growls at Getraer.[14] He had finally bought up Fay to an empty apartment with no furniture.[15] He finally had rented furniture temporarily when his mom was coming to visit, and had miner bird as a pet.[3]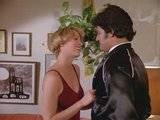 Ponch had finally bought a burned out Trans Am for $83 from a disgruntled owner who had started it on fire during a little disbute over impounding the car, and winning the bidding war against a tow truck driver.[16]. He had finally began starting the rebuild along with Jon and his friend Kim, and managing to get it running.[17] He had finally drove it by chaffuering a recently injured young black woman named Mary Barnes to Jon's rodeo.[18] The first time that he had finally finished rebulding it was repainted valencia gold with a trans am bird decal on the hood, also the car was stolen by Melodie Fisher and her best friend Brandy, and four days later was flip over while going airboune by his very strange new neighbor Kim Balford.[19] He went to go pick up his mother at the Los Angeles International Airport, and surprised her by showing it all burnt out.[3] He had finally repainted once again by escaping naked after taking a shower at Robbie Davis's apartment in order to get away from her father Charlie Davis.[20] He drove around with Joan Ramirez a young school teacher as passenger while looking for Danny a recently suspended troubled student, and keeping the student out of trouble by having him join the CHP BMX Team.[21] After having another Trans Am bird decal put back on hood, and was flipped over by Jon entering the demolition derby trying to stop the car thieves.[22] He finally finished repairing it once again, then it was side swiped by a city bus being driven by the punk rock group known as The Bus Boys while they were robbing it, and force to drive on two wheels after being flipped to one side for a few minutes finally coming back down damaging the frame.[23] He had caffuered Jon in order to meet another CHP officer named Andy Stratowski.[24] The doors were finally damage by a forklift driver while stealing equipment at the construction site.[25]. He later was pulled over with Jon as a passenger while in his old neighborhood by Local LAPD Motor Officer.[26] He later received a bomb inside the engine compartment from an explosives expert named Martin while attending Bonnie's barbecue.[27] He had finally gotten a beautiful brand new 1982 Trans Am in Blue Metallic.[28]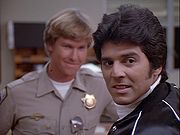 In his free time, Ponch enjoys watching the soap opera, The Troubled World.[2][30][31] Ponch is also a fan of the game show Name Your Price and even appeared as a contestant.[30] One Sunday afternoon Ponch did enjoy the annual Joie Chitwood Stunt Show while at Ascot Park, and later agree to watch Bonnie perform stunts during a practice trail the next day.[23] Later on, Ponch gained fame as "The Barcelona Man" for a jeans ad.[32]
Ponch's talents include: racquetball[6], basketball[33][34], bowler[35], jet-skier[7][15], volleyball player[36], ultralight pilot[37], tennis player[22][4], skate boarder[16], street/roller hockey player, handball player[20], student pilot[17], singer[38], hang-glider[39], sky-diver, wind-surfer[40], waterskiier (he claims), demolition derby driver[22], square dancer[3], drag racer[25], chess player[41], motorcycle rider[42][43], dirt biker[5][44][45][46], dirt track racer[22][47], stunt performer[23], wheelchair racer[34], go-cart racer[48], disco dancer[49][50], and black belt in karate[26][51]. He's also an LA Rams fan.[17] He wears a 9 1/2C bowling shoe.[35]
Ponch's medical injuries include: He actually had gotten sprayed by gas truck that had actually caused him to be temporarily blinded, and ended spending one night in the hospital with a mean nurse taking away his Ding Dongs.[33] He actually wiped out after being thrown from his bike while trying to stop very quickly to avoid hitting the handicapped Vietnam Veterans and their male register nurse, causing him to accidentally to break his left pinky finger, and getting a total of five days of vacation time.[19] He actually was thrown from his bike while in persuit of a dirt bike, causing him to accidentally break his left wrist, and ending up in the hospital.[52] He has also lost his confidence after swerving to avoid a speeding car, and ends up crashing through the front door of a store then winds up with his head in a display case with shards of glass pointing at his neck.[4]
Ponch mentions that he was once a member of the gang Clono Condoris before there was even violence, and is often called Ponchy by his ex convict friend Andy Macedon.[26][51] He had agree to take care of girl named Marla who was the daughter of a tow truck driver named Danny that was actually trying to steal cars on the side for extra money.[46]
Ponch volunteers efforts include: He had volunteered his time at the Children's Hospital Los Angeles while dating a nurse named Gloria, and had agree to help out with his friends at their yearly carnival.[34] He had once taught a self-defense class down at the Youth Center.[26]
Ponch heroic efforts include: He had once rescue a women named Carol from her Volkswagen on the Harbor Freeway.[6] He had help save the life of four year old Chris Roberts who fallen in with his dirt dike in the Los Angeles River Bend, and manage keep him from drowning to death with help of Jon holding a hose.[44] He had manage to recused his new neighbor Kim who was part of a female car thief gang from his beautifully rebuilt Trans Am that had recently flipped over with the help of Jon.[19] He had also rescue Sindy who was accidentally blinded by a mirror at a construction site of building a house from her rolled over patrol car.[53] He had help keep an injured girl named Keli Adams calmed until the ambulance arrived, and managed to become friends with her later during the week.[34] He had help to save a man who had lost control of his car with the help of Bonnie using a rope, and Jon using a hang-glider getting him off the cliff.[39] He had help save a girl named Marla from sufficating of death inside a stolen MG in a junkyard with the help Jon, Bonnie, Baricza, and the now convict tow truck driver named Danny.[46] He had once gotten a tip from cb handle by the name of babbermouth in order to rescued Bonnie who was suffering from fatigue from her rolled over patrol car.[54]
Ponch's favorite hangouts are Lucy's Drive In[11][55][56], and the Villa Cinzano.[14]
His first favorite to enjoy eating is Tutti-frutti ice cream, and his second favorite choice to enjoy is eating strawberry ice cream.[57] His favorite choice to eat in popsicles is actually bomb pops, and his second favorite choice to eat is vanilla ice cream cones.[40] He has been known to drink buttermilk, organic orange juice, apple juice, grape juice, coffee, and enjoys eating doughnuts.[19] His favorite choice of food trucks at the beach are pizza, and ice cream.[40] He actually enjoys eating pizza[40], fish sandwiches[40], clam chowder[40], hot dogs[50], hamburgers[19], cheeseburgers, bratwurst, fries[19], popsicles[40], tacos[11][55], ice cream sandwiches, and ice cream cones.[40] His favorite snack food is Ding Dongs, and he likes to keep them in the refridgerator.[6][33][58][13] He claims to make "a mean potato salad."[2] He often takes to work a sandwich which Harlan calls a "Peanut Butter Chocolate Smoothy".[59] Ponch actually likes keeping Candy in a grocery bag to put in his saddle bag for the trick or treaters.[60] Ponch keeps junk food in a plastic bag in his saddle bag.[30][60]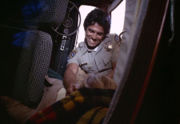 Shortly after the sixth season, Jon Baker returned to the CHP and became Ponch's partner for another year and a half. At some point during this time, Ponch married Carol, the woman he met in a car accident in the first episode. He had a son, Frank Jr.. When his wife became ill, Ponch retired to care for his family. After her death in 1989, he became a painter for ten years to get his mind off of it and painted the Golden Gate Bridge. About 15 years after he last saw Jon, he returned to the CHP in Marin County. When Bruce Nelson was promoted to sergeant, he took a temporary transfer to Los Angeles. After playing a major part in breaking up a carjacking ring, Captain Baker and Commissioner Getraer made the transfer permanent.[61]
References