Silent Partner
From CHiPs Wiki
Silent Partner
Episode #
519
Air Date
February 28, 1982
Briefing
 ?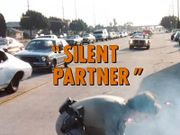 Brief Plot
A couple of auto thieves steal a Cadillac from a guy who gives chase. After an accident where Grossman gets injured, Jon pulls the guy out of his car because he thinks he's drunk. Luckily, Bonnie steps in to tell Jon that he's deaf. The guy wants to make a complaint against Jon. Ponch asks out his adopted daughter.
Plot
Guest Stars
Introducing
Co-Starring
Crew
Fun Facts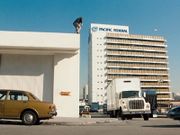 Royce D. Applegate (DeWayne) previously appeared as Roger in Ponch's Angels in season 4.
DeWayne steals the Nissan from opposite the Chinese Theatre. He dumps it nearby in the car park of (what is now) the Liberty Hotel. The car park, the Pacific Federal building, and a couple of the roads seen in this episode have now been subsumed by the Hollywood and Highland shopping center.
The garage that repaired the Edsel was across the road from Rafi Automotive in Culver City. Rafi Automotive is now listed a block away and a business called Jack's Automotive is in its place. View in Google Maps
The final chase ends up at the San Fernando Valley Generating Station. It also appeared at the end of the Dukes of Hazzard episode 'Close Call for Daisy'. View in Google Maps
Mistakes
When Grossman sees the chase go by, he has to walk to his bike and get his helmet on, yet he joins the chase only about 100 yards back.