Alarmed
From CHiPs Wiki
Alarmed
Episode #
517
Air Date
February 14, 1982
Briefing
Learn about anti-theft devices.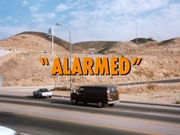 Brief Plot
Bonnie suspects that an old friend from the police academy has turned to car theft. A car alarm expert's daughter is having a hard time persuading her father that she wants to join the business.
Plot
Guest Stars
Co-Starring
Crew
Fun Facts
Elizabeth Daily (Carol Sweeney) now works mainly as a voice artist under the name E.G Daily. She's probably best known as the voice of Tommy Pickles in Rugrats.
Simon Oakland (Sweeney) previously appeared as Bruno in Drive, Lady, Drive.
The female mud wrestling scenes were actually filmed at the Hollywood Tropicana not Chippendales due to an editing mistake of the enterance sign.
Hollywood Tropicana is actually located 1250 N Western Ave, Hollywood, Los Angeles, CA 90029, the club finally closed it doors on December 20, 1991, and is now currently a vacant building.
Randi Oakes can be seen wearing her real life Dino Rico Bomber Jacket in White Rabbits Fur with Brown Suede Detailing along the zipper, including the pockets, and her hair done professionally in loose curls during the visit to the Hollywood Tropicana.
Mistakes